~ Client Shout-Out: Dustin ~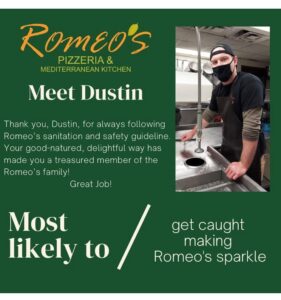 We are proud to recognize Dustin, one of our clients at New Way of Life Indiana!  As part of the recovery process, our clients are encouraged to find gainful employment and many are employed by local businesses.  Many clients continue their employment upon completing their halfway house stay at New Way of Life Indiana.  Employment plays a major role in our programming as it teaches clients financial literacy, responsibility and adhering to a schedule.  We are so proud to see that Romeo's Pizzeria recognized Dustin for being a valuable member of the 'Romeo's Family'! Keep up the great work!
Firetree Ltd. has two half way houses, New Way of Life Indiana and New Way of Life Snyder. Each of these facilities provides medication assisted treatment for males 18 and older. We utilize Cognitive Behavioral Therapy and Motivational Enhancement Therapy, which is an evidence based treatment approach rooted in 12-step recovery model. We teach different life management skills such as Workforce Development and Money Management in order to prepare clients for life after treatment. Also, clients receive peer support both in and out of the program.
To learn more about New Way of Life, click here!